MISSION AND VISION
OUR MISSION AND VISION
Atlas Mining aims to be the leading copper producer in the Philippines, a preferred employer in the industry and a role model for responsible mining and good governance.
Anchored on this vision, Atlas Mining will enhance value for its shareholders by pursuing long-term prospects for stability, growth and diversification while harmonizing safe and efficient business practices with the social and environmental needs of its host communities.
CORE VALUES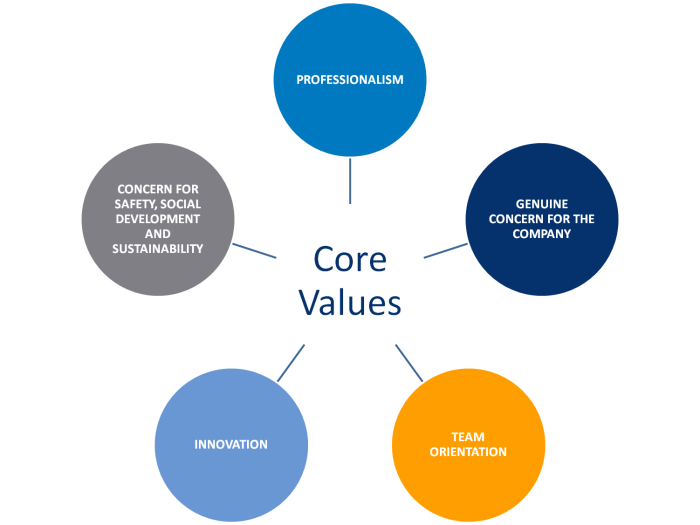 PROFESSIONALISM

We conduct our work with high ethical standards and a positive behavior. We are determined to achieve our goals and fulfill our commitments in an excellent, timely and consistent manner that will serve the needs of our internal and external customers.
GENUINE CONCERN FOR THE COMPANY

We are accountable to our organization. We will be a good representation and steward of Atlas Mining. We will protect and take care of our image, name and resources and we will contribute to the achievement of company goals and objectives. 
TEAM ORIENTATION

We value teamwork and collaboration and the greater outcome it brings to our organization. We commit to support each other, contribute our individual strengths and work together cooperatively.
INNOVATION

We will consistently pursue excellence in our work and seek new opportunities for growth. We will adapt to change and new ways of doing things and will strive to be a competitive, relevant and a valuable contributor to our organization.
CONCERN FOR SAFETY, SOCIAL DEVELOPMENT AND SUSTAINABILITY

We are sensitive to the needs of our employees, our community and the environment. We will ensure a safe working environment for our people, participate in programs that will promote growth within our host communities and contribute to the conservation of our resources and the protection of the environment.