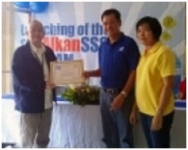 15 November 2013
Carmen Copper Corporation was commended by the Social Security System (SSS), Toledo City Branch, for donating an AlkanSSSya unit that will benefit Barangay Don Andres Soriano's job-order contractual employees and DAS Lutopan Public Market Vendors Association, Inc. members.
The AlkanSSSya unit was turned over by Mr. Pete Tuason, Head of Human Resource Management Division, to Mr. Eric Coronado, Head of the SSS Toledo Branch Head, the DAS barangay council and Atty. Mary Ann Buhay-Chavez, Senior Legal Office-SSS Region 7, during the launching of the AlkanSSSya program on November 15, 2013 at the DAS Barangay Hall.
The steel-bodied AlkanSSSya program is a micro-savings initiative that aims to help workers from the informal sectors gain access to a social protection network. This program will make use of cabinet-like "piggy banks" where members can deposit and build up savings from their P312 monthly premiums.
This system additionally entitles a member to enjoy the same benefits as a regular SSS contributor.
Initially, 48 job order employees from Barangay DAS and 60 members of the DAS Public Market Vendor's Association have joined the network as new members of the AlkanSSSya program.